Becoming The Change by Ellyn Nikkia Gray
Submitted by Anonymous on Sat, 2007-08-04 19:20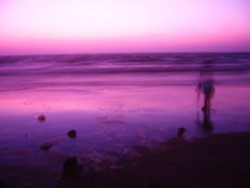 "Be the change you want to see in the world." - Gandhi
In these troubled times it is often difficult to realize all that we have to be grateful for. Yet, there is a quality of the heart that we possess called gratitude. Gratitude is a spontaneous outpouring of love, affection, and appreciation for something or someone. True gratitude cannot be faked because as a quality of the heart it is deeply felt.
If there were just one thing I could be grateful for it would be for incarnating as a human being with the potential of Cosmic Consciousness. It is a most wonderful, albeit over-looked, reason to be grateful. As human beings each and every one of us has the ability to expand our consciousness into the highest realms.
The greatest way that we can show gratitude for this gift is to realize our highest potential. Realizing our potential goes beyond how much money we can earn or even how much service we can give to others, because by expanding our consciousness we give more to humanity than any humanitarian act we could perform.
By becoming better people we make our neighborhoods, cities, states, and countries better places for all. Even better yet, we make them a magnet for an abundance of joy, peace, and love. If each person evolved in consciousness, we would live in a world without fear, without judgment, and without despair. As we moved forward into higher realms of awareness there would be greater expressions of unconditional love, understanding, and unbridled hope.
We can express gratitude to the spirit living within each and every person we meet by doing something as small as smiling when we glance into the eyes of a fellow driver, stuck in rush hour traffic. We can usher in the world that we want to see by one small act of appreciation at a time. As we remember that each and every person has the same potential of awakening to higher levels of consciousness, judgment starts to fall away, fear begins to give way to love, and hope begins to reign in our consciousness.
Becoming the change is the ultimate expression of gratitude to God and all of our brothers and sisters around the globe.
Ellyn Nikkia Gray is a graduate of Irene's Myomassology Institute and currently their Student Adviser.