MY INDIA by Cole Ragland
A Day By Day Travel Diary
India -- The Parker's Tour
Lead by Bob Polselli
February, 2004

Group:
Verna Black
Teri Persico
Ananda Pate
Jonathan Ward
Ewing Hughes
Michele Kripilani
Bob Polselli
Cole Ragland
Wednesday, February 18th
We've just landed at Heathrow airport and are waiting for a bay to open up.
We had a real nice meditation last night on the flight. I really felt Christ and the Gurus. We did our Energization while everyone else was sleeping. One day, these exercises of Masters will be practiced by all people, everywhere. Why, because they work like "mathematics". Jonathan says this about coffee and he's right because just about everyone drinks it. And since coffee is a physical experience, it is fully accepted.
But Master's exercises will take a while due to its "meta physicality". It would be and will be neat to see people, at any time, do them as needed with the same acceptability.
It was very cool. While everyone was sleeping, we were sitting up straight and meditating. I wondered if the Indian passengers noticed or if they did, were inspired.
As Bob said we are totally blessed to have these teachings of SRF.
February 19th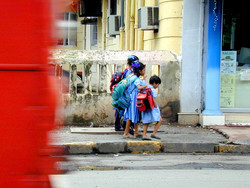 Just arriving in
India -- Mumbai
-- all right!
Having been sitting next to some nice folks on their way to see relatives -- Ramik Santi Shah Ramik and Candra Desai. Their sons are 24 and 25 and are both economists working in London -- educated in LA and they did lots of surfing as well. A nephew lives in Laguna Beach. The parents want them to meet good Indian girls -- Ah, the wish of parents.
Been a great flight. Feels like nothing (8hours). It will feel different to be on land. The children on board have been great. One little girl -- one year old -- reminds me of Peris.
Well, this is Master's trip. I hope to stay in unbroken attunement. I hope I didn't bend the passenger's ears too much about SRF.
It's 12:10am Mumbai time.
February 20th & 21st
February 20th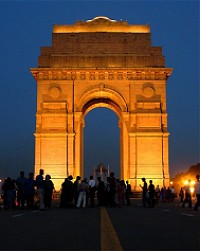 We arrived in Munbai Thursday morning, 12:30am. As soon as we got off the plane, you smell the aroma of India – how wonderful. But our ride was not there and we had to negotiate for 3 taxis that are so small I had to slide down in my seat. The cars all go fast don't stop and there are no lines in the road -- what a ride. Jake, you would like this. We didn't finally check in until 4am. Ah! The shower was wonderful after almost two days travel. So Bob and I figured why not do EE's and meditate -- it was great. Bob and I just finished talking -- we started around 2am -- great soul. "Everything is perfect in its own place." Bob quoting Master. His advice during communion, chant to Master and the Guru's. Bob told a story about Leo Cox waiting for Master by the elevator in Mt. Washington. He fell asleep on the table where Master woke him later. Leo is always about Master. Then we went down and ate too much breakfast -- eyes bigger than stomachs. When you know its time to stop eating -- stop! Destroy greed. Got to work on my will power more.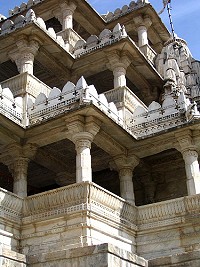 Next day we saw the 'Gateway' of India -- Elephanta; the Hanging Gardens; Jain temple. The Jain is located on a road that in the afternoon light reminds me of "Two Penniless Boys in Brindaban" – the backdrop Master describes as the two boys were strolling late in the afternoon. The Ruparel House of Science sits across from the temple. The Jain has such Spirit. The Walls and ceilings adorned in marble with lots of color. There was a special service happening at the time. From AOY, I easily imagined myself at Sri Yukteswar ashram. Musings: Master works through your spouse until you have learned to behave. Go over 20x20x20 and Hong Sau. Give everything your love -- develop the hearts love. What a wonderful path we have. Bob and I or any devotee can share spirit at any time as well laughter and good stories. Master and the karma he took on - the pain he endured - like Christ. The pain and suffering they went through for us is unimaginable -- these two master's. But just as I write this, I think it may be more my mortal perspective than anything else. They could not take on karma unless they could transcend it. Bless me Lord with the Cosmic Intelligence and Understanding to look at everyone and everything with thy love.
February 21st
Landed at Patna airport, in from Deli, our last leg to Ranchi. Write to Kelly! Write, write, and write. When I get back, talk with Br. Pranavananda about Kriya increase to 48 and second Kriya. Great talk with Bob -- father, husband, children stuff. Amazing how beautiful India is from the air. Neat villages surrounded by lush, green pastures -- quaint, rustic and neat.
February 23rd
February 23rd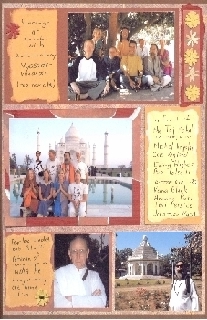 9:30am Arrived at Ranchi airport - one plane a day - small and charming. The two layovers were very short in time -- the rest of the world should follow suit.
The taxi ride to Ranchi was pretty intense. My knuckles were white from holding on so hard. It's really like organized chaos. Seems like there should be an accident every five seconds but there never is. Ah! Y.S.S at last. We're in the ashram. Master's picture from the wall in front of the building – were 'home'. Sheri, this is a real Indian ashram - no toilet paper; toilets in the ground and only recently hot water. But it was fun squatting over the hole – my muscles were quivering.
And the baths – there are small rooms with a cold water faucet, small seat, cement floor with a drain. You just get yourself a bucket of hot water; add cold water to your liking; scoop water unto yourself, soap and rinse – a lot of fun. I think I'll buy a seat and pail for our bathroom. Better yet, take out the tub and make it Indian style.
The four guys are camped out in one room. We each have a wooden, slatted bed with 1" mattresses and blanket. And each bed comes with a very needed mosquito net. Tell Jake its like being at youth camp.
Lots of buildings spread out over a large property with a number of big trees – banyan, mango, etc. and birds! They sing all the time – how natural. You can hear the sounds of the city of Ranchi all around – motorcycles, horns, etc while in this quiet, peaceful, humble place.
There is a beautiful mandir for Guruji – all marble, cut in intricate designs, topped with huge Lotus – great peace in there.
The refectory is small and humble. The food is plentiful and hot – they like to use too much chili. Bob is going to talk with the cook who is a nun is training. Turns out that she has heard of Marianne Warner and her cooking skills.
You wake up to the sounds of chanting from the other religious centers surrounding YSS. Then you see the sun start to rise, the birds' cawing, squawking and playing in the trees. The buildings have lots of shuttered, screened windows allowing soft breezes and filtered light to penetrate. There is just such a warm glow and ah the smell of India with people preparing breakfast over coal or leaf fires – there is nothing like it.
The brothers and bramacharis here wear ocher colored shirts, sandals and have long black hair – you can almost see Guruji walking down the path.
There is no Sunday service but a Satsanga – it was packed with people from all over. After the satsanga, a bramachari led a bhajan. Afterward most people lingered, talked and walked the grounds. Four little girls came up to me and one introduced herself. The others were shy and giggling. But we talked and they wanted my phone number and address. I asked them where their parents are as they were about 8-10 years old.
They replied that their parents were home and that they let them come to YSS on Sundays. So I made them pinkie-swear that they would inform their parents before writing me – I gave them my email only. Their names are Ruchi, Ruhi, Ansu and Priyanka. I also met two members Senga and Vicki – schoolteachers, level 3.
Sunday night at 9pm broke out into a religious festival of conch shells, drums, horns, bells and firecrackers. A thought -- Open-mindedness without wisdom and discrimination leads to suffering – like 'Fun Island' in Pinocchio.
One of Master's sayings sounds in my mind – I am fearless, for God is within me, around me – everywhere; "Danger and I were born together and I, the eldest brother, am more dangerous than danger".
I feel like I am getting re-acquainted with the Guru's – Dyana Mandir.
4:00 p.m. Satsanga with Swami Swaramananda (Remembering God) Omnipresence, humbleness.
Don't build a bridge with a thought while meditating. Let the thoughts go by, but don't grab one and revolve around it.
The first five minutes of meditation sets the tone. Merge discipline with chanting, affirmations, Hong Sau, Om, Kriya. Talk to God and Guru's. Just a few minutes of breathlessness; peace is a very great motivator. To achieve that minute of peace and silence (no thoughts), it may take an hour of meditation – Chaityana
Stages of meditation:
Prayer
Chanting or Spiritual Affirmations
Mediation Techniques
Stillness
Thoughtlessness
Devotion
Pray for Others
Feb. 23rd Swami Swaramananda (Loudest Sound)
Breathlessness, stillness, visualizing Guruji in different poses. Om Guru, Om Guru, Om Guru. When that peace, joy and bliss come you will recognize it as a conscious, intelligent being to whom you can appeal.
Om technique – Guruji asked us to listen to the loudest sound, then become one with that sound by merging the sound, the listening and the process of listening into one – listen, listen, listen to the loudest sound.
Dayana Mandir – The Gurus are dancing in my mind.
-- become a Master --
February 24th
February 24th
Swami Vasudevananda
Swami Vishunanda
Swami Bavananda
Shurman
Ranchi is building a new Dayana Mandir, near the reception hall. It will hold 300 people.
I eat little except in the morning when wheat portage is served. Really tastes great. But we did discover a restaurant, The Nook, at the Kwality Inn near the train station that serves Chinese, Indian and American. The inn also provides a refreshing Indian drink – sweet lime and soda with cane pressed sugar. Incredible taste, refreshing and great for the stomach. So Bob and I would go there just for the drinks.
Michele, Ewing and I went into downtown Ranchi on a rickshaw. The driver ended up the wrong side of the street (against traffic). So after some out of body experiences, we hopped out and walked to the stores. I got a pair of sandals. We went to check on some cloths Ewing was having made for Verna.
Then Michele and I took a rickshaw back to Ranchi, taking a neat route off the main road which a little quieter and more charming. This is where all the artisans, textile, lumber and coal outlets are located. Also lots of Catholic schools for girls and boys. Ah! Took a nice bucket bath when I got back to Ranchi.
We had a great satsanga with Swami Vasudevananda under the very tree Master used to teach the children – definitely 'yes' to education being held outdoors. The kids would pay more attention in this natural setting. Swamiji is very warm, loving, humorous soul.
I did some laundry and hung it out on the rooftop of the dormitory. Cloths dry fast in Ranchi air.
We leave for the train station. We ride in car C-1 for Calcutta (Kolcatta) – a nine hour ride but we get to see the Indian countryside. Michele got lots of pictures hanging out of the train. There are cows everywhere in front of each hut and house.
We pull into the station around 12:30 am. Men come on the train dressed in Red, argue and carry our luggage out on their heads to our waiting bus. It was like a dream going through the station – so many people, so intense, so fast we were moving but felt like we were in slow motion. I thought that all the people would converge on us but didn't. It was if we were invisible. I think Master hidden influence was at work.
We are loaded on to the bus for Dakshiniswar Yogada Math (YSS headquarters). But it took us 2 hours to go five miles. There was a transportation strike the day before and each night between 8pm and 6am the supply trucks move into town to make their delivers and we were smack in the middle.
We meet Swami Amarananda at the gate and finally get to bed around 3am. Then its off to the city, across the Ganges, to sight see; have lunch at the Oberi and visit Masters 4 Garpar Road home.
We had a nice lunch at the Oberi. We did the buffet and had about every desert they had – at least Bob and I did. While everyone else left to go shopping, we stayed and had a great-fun talk for 90 minutes or so. Bob is a great soul and a great Father (Dale and Evan) – lots of wisdom.
Now Master's house – Wow! We meditated in his attic room made famous in AOY. Talked with Hare Krishna Gosh, Master's brother's (Sananda's) son. His relatives and granddaughter live with him.
Lopa's (she is a member at Encinitas Temple and friend of Teri's) parents met us 4 Garpar and invited us to their house for dinner. Lopa's Dad used to be Chief of Police and is now a lawyer. Jonathan called him Mr. Lopa. He even told him a lawyer joke, "Why don't sharks eat lawyers? Answer: Professional courtesy". Mr. Bose laughed. He is a jolly man.
Next day we left for Sri Yukteswar's ashram after a visit to Kali temple (scene of 'Heart of a Stone Image') where Ramakrishna and his saintly consort Sarada lived. Beautiful meditation in their living quarters.
Seramapor – we walk to the very spot where Sri Yukteswar met Mahavatar Babaji and received the request to write a book correlating the Bible and the Gita -- "The Holy Science". Babaji also told him that he would send a disciple for training – Master.
Because the President of India was visiting, the bridge would be closed to traffic for hours, so Jonathan, Teri and I got off at the bridge entrance, which crosses the Ganges to Dakshiniswar.
It was neat because there was no traffic at all. It turned out to be a nice walk across. From the middle of the bridge we could see the ashram and the Kali temple.
From the other side we took a rickshaw to the ashram. All the schools were getting out, so the little children would yell, "Hello. Hello!"
Ah! Some quiet, peaceful time at the ashram. I cleaned up and had 4pm tea. We had nice talk with a couple from Santa Rosa (Steve and Chris). Steve is a Ferry Captain in San Francisco – gets razzed by his co-workers about his path (done in good humor).
There was a beautiful sunset over the Ganges. Meditated in Sri Daya Mata's Mandir located at the corner of the property overlooking the Ganges.
Energization and meditation followed. The meditation room has a warm glow with beautiful lamps and artistic ceilings. When Swami Armarananda performs the Arti, he also burns incense which filter the remaining light from the sunset rays spreading in the room – you are transported. Ewing played the harmonium.
After dinner we had kirtan.
February 29th & March 1st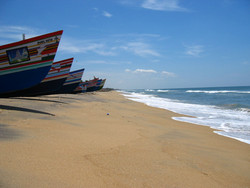 February 29th
We leave for Puri and the Mayfair Hotel. We land in Bhubanishwar and take the bus to the hotel – a seaside resort.
Down to the beach and a swim in the Bay of Bengal. Ah! Salt air and salt water. Water temperature is about 78 degrees but very windy – chopping the water. Severe currents and undertows with crushing waves. We did not go to far.
Have not eliminated for a couple of days. Bob recommends ground flax for normalization. So for now I eat lots of ripe bananas. Bob knows a lot about health and diet.
We visit Sri Yukteswar's Giri Karar seaside hermitage -- Yukteswars's mandir, meditation hall, Master's meditation room. Lots of jackfruit trees – the Cauliflower Robbery.
Then it was onto the Jaganath Temple for more sightseeing. Westerners are not allowed inside, so our guide took us up to a roof of an apartment nearby. The temple has 700 cooks and 1900 priests.
Best part of being at the Mayfair is the sea, sand and Bob leading EE's and meditation on the beach.
March 1st
Visit Konorak Temple in South Puri. Kundalini stone work. Huge grounds; had nice meditation under a tree facing the temple.
March 2nd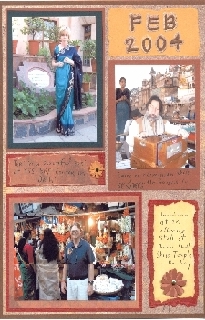 March 2nd
We leave Bhubaneshawar for New Delhi.
We arrive at the Imperial Hotel – very elegant, very palatial, lots of westerners, lots of people to serve you but still on Indian time and still, a lot of chili in the food.
At dinner I never received my spaghetti, but as Bob says that was Master – didn't need it anyway.
March 3rd
Were up early for the airport for our flight to Varanarsi. Everyone is getting along real well no matter that we've been on the go most of the time.
Jonathan has a great sense of humor – real dry. Michele is super considerate and helpful especially letting everyone off load his or her digital pictures to his laptop. With Michele's laptop and external drives acting as data storage, he can take as many pictures as he wants. We should have quite a slide show when Michele and Ananda get back.
Bob is keeping everyone on track and he and I relate pretty well being householders on the path. Teri and Verna are hanging in there real well – Teri's stomach, Verna's feet. Ananda is a real trooper – aha youth.
Then Ewing – what a soul; what an ambassador. The people love him. This trip has been great for all of us. We have great fun talking about God, saints, SRF, experiences – lots of mirth.
Bob made a statement that as we progress along the path, the less we know -- the more 'insignificant' we become. God and Guru and our self-effort are slowly/rapidly chipping away our ego.
Saint Thomas Aquinas – a brilliant theologian who built the foundation for the Catholic religion said, after illumination, " . . . all that I have written is but straw in the wind."
We see everything happening with God and Guru behind it. The great granddaughter of Sananda, Master's brother, who lives at 4 Garpar Road, is so spiritual we all agreed.
She was asked about her self and she said that, with conviction and victory in her voice, she hadn't know defeat while following Master since early age. There was so much strength and power in her voice. She is totally aware of her blessings at being born in the Ghosh family.
Bob makes you realize that you should never try to change anyone. Flying over the Ganges into Varanarsi Master words come to mind, "India, where Ganges, wood and men dream God. I am hollowed to have tread her sod."
It's great! We talk God and Guru – like being in an ashram.
We visit Saranath where Buddha, after attaining enlightenment, preached his first sermon to his five companions. Law – turning of the wheel of law.
Beautiful green lawns and neem trees to meditate under. Also, huge, tall Stupas.
Then we went to Buddhist Monastery nearby. We each received a protective thread from the priest. We then meditated in front of the statue of Buddha. How Real it is.
Then we went to the market section of downtown Varanarsi. Wow! So crowded the cars do not venture in. We all got rickshaws and merged with the bicycles, people and motorcycles. Bob met a nice local who showed him where the bathroom was. So he and I talked for a short while. Then back to the Clark Hotel to clean up and eat.
Our waiter looks just like Brother Santoshananda – same facial expressions – especially the smile and soul humor. His eyebrows even moved the same. Wonder if he ever lived in Switzerland.
Stupa's built by King Osaka in 300 BC in honor of Buddha. Our guide says that Buddhism is really Hinduism in a practical way.
March 4th
We are up at 4:30 meditating. We leave at 5:30am on rickshaws for a sacred dip into the Ganga (Ganges) at Manikarnika Ghat. I thought, "Is this for real?" I was both excited and a little scared but I knew this was the best thing I could do -- " . . . its now or never."
We arrive at the ghat, get in our rented boat (about 30' long) and row (a nice young boy – father owns the boat) about a hundred yards. What a glorious, golden sunrise on the Ganges we experienced.
Verna's light and flower ceremony for her daughter, from the boat, -- Porpoise swimming, jumping – just what Shelly wished for.
Then we row to shore and (Oh! there were two young flower girls our guide hired to make little flower boats that you place in the water. We dip in the Ganges – wow what a feeling – so pure and cool and perfect. Then I go up the steps to a dais and sit to meditate – just like the yogis. Wow! I look upon the Ganges with half-closed eyes and I understood why they say that all sins are washed away when looking upon its surface. Even with my face tilted toward the morning sun and without any sun block, there was no burning sensation that I usually start to feel within seconds. I could sit here for ever it seems. Ten minutes later we go up the steps to a king's/swami's seaside palace/ashram.
We row back to the ghat and are off (up the street) to the Golden Palace – a Hindi temple covered with 400 tons of gold (donated hundreds of years ago by a Raja/King/Maharaja. Incredibly, it was opened to westerners for the first time only a week before (that's Master). So we are essentially the first westerners to experience this treasure of India. People moving toward priest for blessings, then bells to ring – so fluid despite the small areas and corridors.
Then Chai Masala at a shop right outside. We buy some oils, get blessed by another priest who ties a protection string around our wrists – takes a donation though. Lots of soldiers to protect the temple.
We head back to the Clarke and have a nice breakfast even at 10:30am – Master again. Then it's on to visit Lahiri Mahashaya's home. The original house is locked but a we go to a another home of Lahir's donated by a wealthy Raja years ago located up the street towards the Ganges. In the courtyard there is a mandir dedicated to Lahiri.
We meditate 45 minutes in front of the Mandir. A caretaker came up and asked if we would like to see Lahiri's rooms and pictures – what a blessing. He even took us to the rooftop where one can see the Ganges from up high. What a site to behold.
We then go back to the ghat in the late in afternoon, hop in a boat for the evening Aarti – a fire ceremony, chanting and music – everyone participates.
Very serene, transporting. We rowed up and saw the crematories – in service too. It takes lots of wood to cremate a body. The Government built electric or gas ovens, but nobody uses them. What a glorious day!
March 5th
Leave Varanarsi for Agra. We stay at the very luxurious Mogul Sheraton. Beautiful grounds – incredible even. The next morning its sunrise at the Taj Mahal – along with a lot of other people.
It took 22 years and 20,000 workers to build (1600's). We had a nice meditation under the trees. We then got back to the hotel and started our bus ride to New Delhi. We stop in Mathura and visit Krishna's birthplace == 1000's of years ago – nice meditation. I think the priest was enjoying the westerners come to pray. Then onto to Brindaban where Krishna ruled from. We visit the black-pillared temple that belonged to Swami Kebalananda the last living disciple of Lahiri Mahashaya.
We shot a group picture on the steps where Master stood with Kebalananda and Richard Wright. Then we leave for New Delhi. Stomach queasy (too many fried shrimp at the Mayfair) and ride bumpy. Thank God for Master's Hong Sau and Ewing's Jimbos magic stuff.
March 7th
We attend Master's mahasamadi at YSS Kendra in Delhi. Mr. and Mrs. CN and Rakhika Swami are the caretakers. We are going to bring back a cricket bat for their son who is now a postulant monk in Encinitas.
What a great service – Master's family is indeed growing. CN told me that devotees have purchased 5 acres some 20 kilometers away for another center.
Our taxi driver is interested in who our Guru is. Verna gives him one of master's 'How to Live' books.
We eat and pack for a 4am departure to avoid the Monday morning traffic -- a five hour bus ride to Corbett Lodge. Bob is right. The long bus rides are an opportunity to go deep with Master's techniques – helps to overcome body consciousness and complaints.
March 8th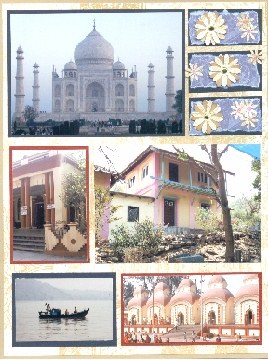 We are on our way. All on this trip have right attitude; toward locals, etc.
We pull into Corbett Imperial Hotel around 11:30am. This used to be a hunting lodge and it shows – structures made of bamboo, wood and stone. The lodge is situated on a small hill above a very wide river and has a pool. We were pretty much the only ones there.
Nice breeze, temperate climate, trees, birds of every kind – parakeets, hawks, crows, egrets; water buffalo, monkeys, huge fresh water fish and tigers if you can see them. The park is a sanctuary for all the animals, especially the tigers. There are about 4000 in India with about 1800 in Corbett. There were, at the turn of the century, around 100,000.
Well, after lunch everyone but Bob and I went on a site safari for 3 hours – this after a 7 hour bus ride.
Bob and I just turned out chairs around on the outside veranda of the restaurant, and had a great 1 ½ hour siesta listening to the rapids and animal/bird sounds. Later I went swimming in the pool while Bob slept some more in his room.
Very peacefully and serene and natural. Sat on the veranda outside our room and watched the sun go down.
We saw a slide-show and a great meal – macaroni and cheese with French fries. Tomorrow the elephant ride.
March 9th
Were in the jeep at 6am heading for the elephant area. We get to the park entrance and its another 5 miles on a gravel road and streams. Other jeeps were there at the gate as well – you have to check in with officials.
The whole deal is to be one of the first ones through as there are only 3 elephants. So all the drivers took off at once which had the feeling of a Nascar race. Jake, you would love it. We plowed through streams; raced down the road. We were the second jeep in.
Turns out everyone got to ride at the same time anyway, but it was fun arriving.
There are four to an elephant plus the driver. What an experience! We saw all kinds of deer, monkeys, vultures, wild elephants and tiger poop. Back to Corbott Lodge and we all had a great breakfast on the outside veranda.
A shower, then pack and were off to Dwarahut – a 7 hour ride. The foothills of the Himalayas are so beautiful. We all thought Raniket was the best place we've been so far. It's a lot like Big Bear or Idyllwilde in terms of air and trees. Because of the steep hillsides, there are lots of terraced areas filled with growing, deep green wheat.
The schools look better; the kids are neater and healthier looking as are the buildings and structures. The school kids all dress in neat, blue and white uniforms. Also, lots of military as well. Pristine and neat with natural, outdoor charm is a way to put it. We stopped here for a bus repair. While waiting, we climbed up the hill a short ways and had our box lunches. Cows and goats came up and we fed them.
The lady who owned the animals was laughing at our attempts to do this, although Ewing seemed like an old hand at it.
When repairs were complete, we took off through the market area. Great shops. I should have had Bob stop the bus so I could get a cheap watch and towel. But this is Master's trip. So either he wants me to get these things in Dwarhut or do without. We stop at a nice little restaurant for chai tea and a pit stop. The owners were real nice folks. So sweet – from living in nature I think.
Well onward over winding, curving roads cutting through hillsides dotted with terraced, small villages, beautiful cherry (white) blossom trees - so beautiful.
We arrive at Dwarhut YSS ashram at 6:30pm. They had had no notification that we were coming. But Swamiji got us rooms anyway although the girls had reservations about theirs. YSS ashrams are always improving and their room still had unfinished construction work. Teri said she is going to sleep in the temple. We had a nice service for Sri Yukteswar led by Ewing.
But Bob is right; one excepts what you are given. You can still make it better though. So maybe us guys will try to finish the project.
Tomorrow is a free day. So I went to town and purchased a watch and towel. Were thinking about hiking to Babaji's cave – about 20 kilometers away.
March 10th
Up early for EE's in courtyard with ashram dog – Jackie – cool dog. Jake there were monkeys everywhere jumping from pine tree to pine tree. The dog even chased them. We are going to decide whether to hike to Babaji's cave tomorrow or take a taxi most of the way.
March 11th
Off to Babaji's cave -- I can't believe we thought we could hike this in a day. After about an hour's drive, we hike for about an hour over trails and farms. We reach the mandir just completed last year. After a short rest, we hike another 40 yards or so at a steep angle.
Our guide, Charlene, has the key to open the gate to the cave. Charleen was from Alaska and had sold everything and quit her job to stay in India. She lived in a cave for two weeks and the villagers brought her food.
We sat in Babaji's cave for a while trying to be receptive to his blessings. After we got back to the mandir we sat and had lunch. One of the guides with us, a lady from Austria, made some simple but tasty vegetarian cutlets.
The high altitude affected Verna greatly. We took turns piggy-backing her to the bus. The driver assistant was the first to reach her. Both the drivers are great guys.
Leaving Dwarahut Ashram – so beautiful pranaming to the Swamiji and the group of devotees who arrived the night before for a weekend youth camp.
I met a young man named Chanden (which means 'Sandalwood', the name of the street I live on. How cool is that) with bright-eyes and, like Luther Burbank, without guile. Master's family is indeed growing. He lives in a town near Delhi – a spiritual brother – Bengali Babu. He thought I was only twenty-five and was shocked that I had grown children. His reaction was so sweet.
There was also a group of young women and one with a very bright personality. She always like to say 'Jai Guru' like I do. Her name is Raki (my niece has the same name). On parting, she declared that we would all be 'together' in meditations.
Then there was an elderly man, about 65, whom I spoke with briefly. He came up and just stared at my eyes with such light and love. Later this reminded me of my Dad. Jai Guru!
We then pranamed to the American and Austrian devotees who had helped us so much. It was just so beautiful.
We then left for the Mercury camp in Sivapuri at around 10:30am and did not arrive until the same time that night. The camp was expecting us the following morning so we slept in, on and around the bus. It was pretty magical lying in the sand, hearing the water 'Om' by, seeing the surrounding peaks silhouetted by the moon and stars.
The next morning we rafted across the Ganges to our campsite located on a beautiful beach along the river. Bob and I spent the day talking – we have great talks about Master and the teachings. Everyone else went rafting and had a wonderful time floating down the Ganges.
Bob and I fell asleep early that night and did not eat which was good.
March 14th
We go to the Kumba Mela in Hardware, just outside Rishikesh. As we neared the site, we saw a huge, very tall Shiva statue by the dam. It must have been around fifty feet. The Kumba was not as crowded as anticipated, but I did not mind, as I was not sure I wanted to experience 'rush hour' traffic all day. It is the end of March when the great masses appear. This is the most auspicious time for the Mela.
We were able to move freely through the area. Something inside said I should go in for the Spiritual dip - how wonderful. I stripped to my jockey shorts and stepped in. The water was knee deep but moving swiftly. Quite a few pilgrims came to my aid. They were pretty curious about this white westerner. We all became instant friends – Bengali Babus. Friends, no doubt, from the past. A few invited us to their camps for food.
Even Teri went in. A lady told her that she has to dip eleven times. So I went back in and dipped eleven times. What genuine fun and cleansing.
Later, we saw a thief get caught and summarily punished with three lashes on the backside.
What an experience we had. We got back to camp and discover we have it to ourselves. The cook is in tune with what we can eat – great meals with warm sweetened milk.
We also visited Lahiri Mahashaya's Hardwar ashram where some of his ashes are buried. We saw his favorite meditation tree and we got to meditate in his meditation room.
Each morning in Sivapuri, we did our energization, chanting and meditation on the banks of the Ganges – Ewing brought a harmonium. This is just like being an Indian Yogi.
March 15th
March 15th:
The next day, we all went to Luxmon Jhola for shopping. My back went out on me after we crossed the Ganges the first day in Sivapuri. I almost went back to camp. I bought some great items for the girls and for Jake and his friend Brad.
March 17th
We leave early for Delhi. Then we left for the Imperial Hotel with comfortable beds. Bob and I both turned in.
March 18th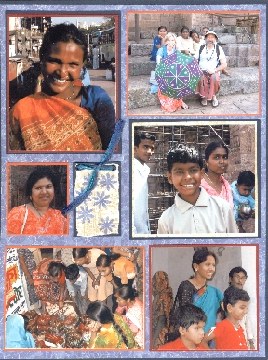 Bob and I both wake around 5:30. We do our spiritual routine until about 8:15 – Great. Bob's been a great example of starting early. I pray that I keep his up at home. Were going to the Ghandi shop and then walk back to the Imperial.
Oh! I need to pick up my night meditation before going to bed. Onward! Never give up! Be a warrior! God is with you always. You are protected.
We took taxis to the YSS Delhi Center for a three-hour meditation. Verna gave one of Master's booklets to the driver, who was curious about Master. It was so wonderful to meditate and meet with the Indian devotees of Master. We did our exercises upstairs in the book room – kind of cool.
That night we had our last meal in India together. I ordered a huge salad that my body was definitely telling me to have. But when it arrived, Bob said to be careful (the greens may not be thoroughly washed). As much as I wanted that salad, I knew Bob was right (before we had begun our journey, mentally I had granted to him complete trust to guide me in all matters concerning this trip).
Early the next morning, we left for the airport after saying our good-byes to our two personable and dependable drivers. The flight seemed longer going back than when we came a month earlier. Teri took ill and we thought we might have to stay over in London. Upon arriving in New York, we discovered that we would miss our connecting flight. So the airline put us up in at the Ramada and Teri got a much needed rest before we continued on the next morning.
We almost did not make our flight on time. Except for Ewing hauling us to the 'Business' line at the counter (completely empty as opposed to the regular line being so long that we would not have made the plane) and Master's help – some airport official just came up to us and told us to follow him or we would not have made it. We got ahead and through the security section in no time.
January 1st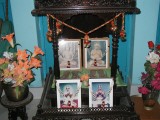 Saw Jonathan after Sunday school and he said, "Cole, do you still think about India?" "Indeed I do." And we reminisced – especially about Varanarsi. How wonderful this trip has been. What an incredible blessing its been for each of us. Jonathan asked me (others have as well) if I wanted to go back. When I think about that, I say 'yes' but only if it can be as good or better than the first time. Part of me would not want to be disappointed if it wasn't. But then I think how could it. You would be with Master at his ashrams and the holy places of India. And I think of Bob and others who have been there before. And then I think that it is because they went back as tour leaders. Through service to Master, each trip was as memorable as the first only slightly varied – like the joy Master describes experienced by liberated souls.